St Patrick's College in Dungannon secured a top spot for their design of a SEN Sensory Cube at the BT Young Scientist Team event.
The gong in the Junior Technology section was awarded to the young scientists who demonstrated excellence through the initial investigation of the problem alongside innovative and creative problem solving.
The Project was also recognised for demonstrating the best use of graphic design in both the display presentation and project report book.
BT Young Scientist 2020 took place virtually between January 9-11.
Pupils projects selected for the final, submitted their project boards and research logs virtually and were questioned on their project purpose, design, research details and outcomes via tele conferencing. It was both a different and challenging set up, pupils had to be confident in their entries and proposals and articulate in their presentations and explanations of their work and creations.
A Pandemic was not going to stop this final going ahead!
The President of Ireland Mr Michael D Higgins opened the event and acknowledged the challenges facing our world alongside the importance of science, research, education and creativity among young people and adults alike to identify and develop
what our world needs as it evolves.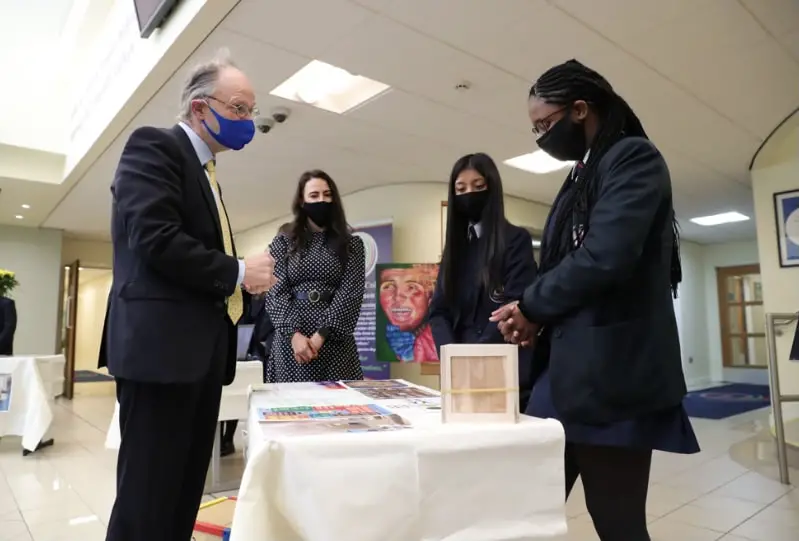 The Project
The aim of this project submitted by 2 of our Year 10 students, Mari and Thasia was to design and produce a Sensory Cube for children with Special Educational Needs to help them express and process their emotions. Their project was entered into the Junior Technology section.
The students were motivated to produce a such a toy having attended Sperrinview Special School in educational partnership events. They wanted to enhance the ability of children to communicate and remove the barriers faced by young people with special needs. During their partnerships they recognised that some of the pupils were unable to engage in their musical activities and so they wanted to develop a toy that would promote inclusion through play.
The students worked hard to identify the right material to be used in the cube so that it would meet the sensory needs of the children. They investigated the effect that materials would have on reactions, processing, enjoyment, responses, engagement and emotional regulation.
To complete the necessary research, they partnered up with Sperrinview Special School and monitored the impact and reactions their selected materials would produce in children with special needs. Ten samples were issued and responses and reactions were monitored and recorded. Results were analysed for the most effective material and colours for the cube.
The final product was a sensory toy cube designed for children to be able to work on basic co-ordination sills and help them express their emotions, while also providing entertainment.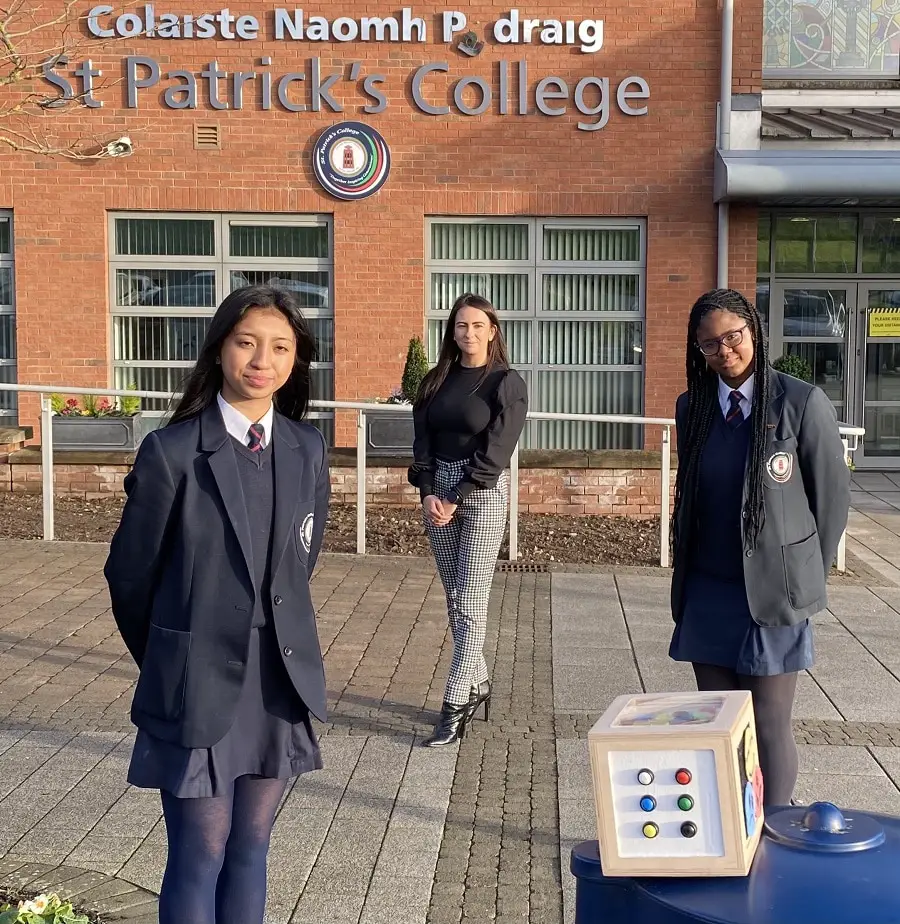 Pupil Feedback
Mariata: "I absolutely doing the project for the BTYS Competition. I enjoyed having to think of something totally new and work out how we would decide if it would really make a difference to children with needs. I enjoyed having to explain our project, the reasons behind it and our research to the judges and convincing them that our project was valid and could help children with needs communicate and regulate their emotions better.
"It feels good being part of creating something that could make a difference to others. My family are so proud of me being part of the project coming first and it has made me realise that we can really can do and be anything if we put our minds to it."
Thasia: "It was really great being part of BTYS 2021. We worked after school with our teacher Miss O'Neill every week and actually started thinking about our project last school year. We had watched the success of last years St Patrick's College entry and so we wanted to try and make sure ours was also good enough event just to get as far as the final for that experiences. But, we are so delighted to have won.
"We met the Education Minister in December, when he came to our school to present the TES UK Entrepreneurial Award 2020 and we presented our research to him, so really that was our first test. I feel really proud to have come first for our work and am delighted all those extra weeks staying after school paid off!"
Principal Mrs McHugh, commented: "All of the pupils that took part in entering the competition were credit to themselves, their families and our school. We were amazed by some of the creativity and interesting project ideas that pupils submitted.
"Mari and Thasia should be very proud of their fantastic success in the BT Young Scientist & Technology Competition 2021. Their research and development of this cube is all the more worthy as it came from their own motivation to help others and make a difference to children with special needs. We are pleased to have partnered with Sperrinview Special School to complete the research and to have produced a sensory cube that can be of benefit to their pupils in the future.
"I am very proud of the creative, innovative and forward thinking proposal that Mari and Thasi decided upon. Judgement this year was challenging because it took place remotely, but the girls were articulate and fluent, showcasing, explaining and presenting their project and research convincingly to have been announced as worthy first place winners. A special word of acknowledgement goes to their teacher Miss Sinead O'Neill, who showed leadership and commitment to all the teams who entered BYYS 21 as representatives of our school this year.
"We are also very proud to have scooped the Best Project from a Northern Ireland School Award. We look forward to next year, with more ideas and creativity from our students to research and develop projects that matter and make a difference."